Update : 1 July, 2016 10:55 am
Print
Eight fellows receive YFC awards
Tahsin Firoza Khan Amina
South Asian Youth Society (SAYS) organizes the award ceremony of one of its signature programs Young Fellowship Challenge 2015-16 on 3rd June at Bishwo Shahitto Kendro [বিশ্ব সাহিত্য কেন্দ্র]. The Young fellowship Challenge is the most unique initiative by SAYS where the selected members have a life-changing opportunity to get accustomed with the necessary 21st century skills (life skills and interpersonal communication skills) and boost their leadership qualities to design their desired career. This Challenge creates the young ambassadors of peace and empowers them as the face of the community and potential global leaders of tomorrow. The members are grouped in 5 teams under the 5 focused areas of SAYS and they are Youth Empowerment, Community Development, Active Citizenship, Civic Education and Peace & Prosperity.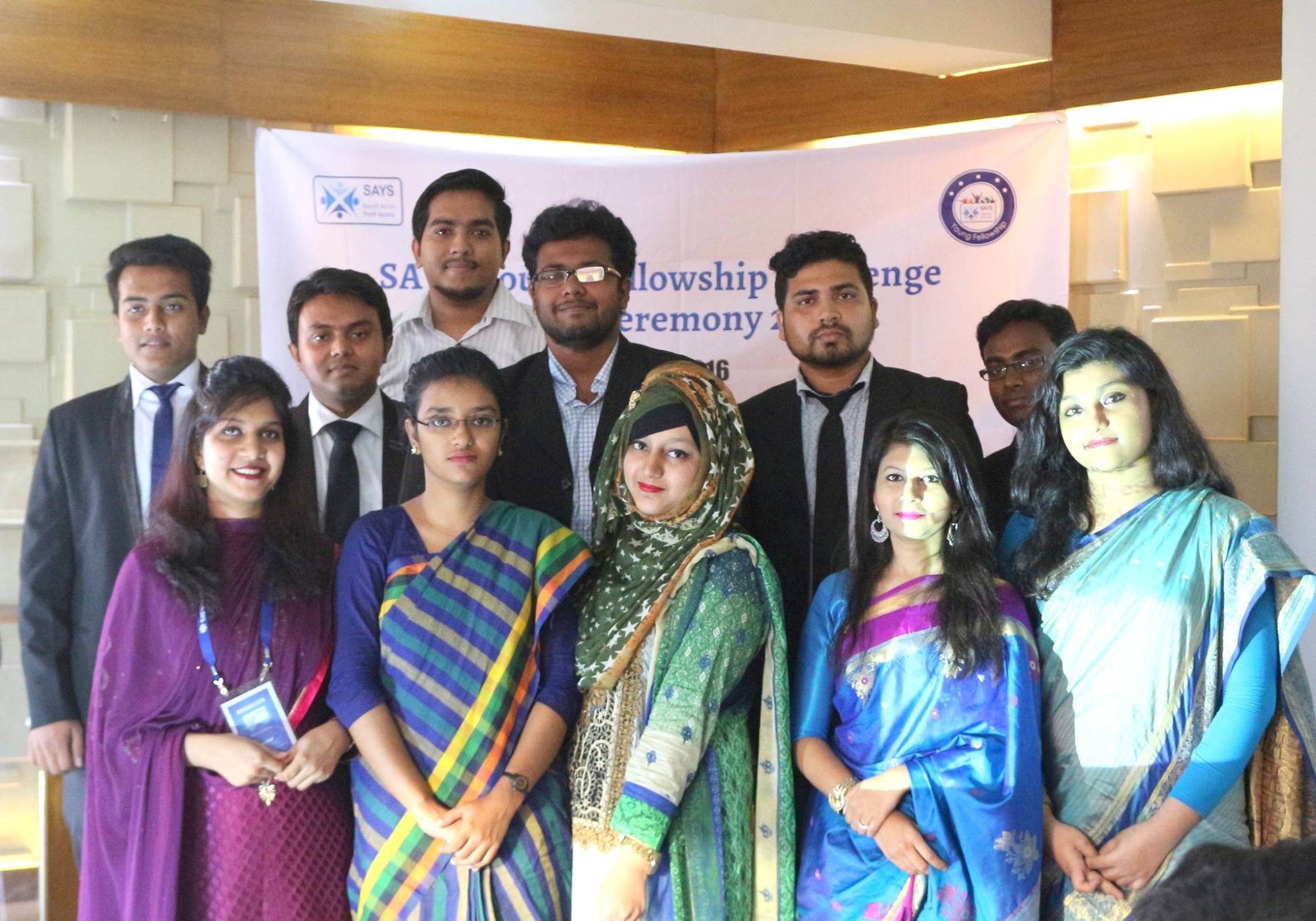 Each of them need to work for a total of 100 hours in this challenge. They have to organize different workshop, awareness campaign, major projects based on social need. They work from giving ideas to proper execution and documentation of each and every event. Each team consists of a team leader and is facilitated by a facilitator. The whole challenge is coordinated by a Coordinator and two lead mentors.
Some notable events organized this year were Reign over Winter Tide,Campaign on Food Safety, Waste Management Campaign, Awareness campaign on oral hygiene etc. Another noteworthy event was a unique street play on 'Animal Cruelty' initiated by team India.
The award ceremony was dedicated for the members who with their hard work & intelligence completed 100 hours of the Young Fellowship Challenge. In the ceremony Towfique Ahmad Khan (Founder & President, SAYS) shared the story behind origin of SAYS.
The need for a united platform for the youth of South Asia was the ultimate workforce for creation of SAYS. Professor Abdul Hannan Chowdhury (Chief Adviser, SAYS & Pro VC, Eastern University) was the chief guest of the event. He believes that the world is witnessing the millennial generation where breaking the ego of institution youth are coming together from diverse background and are working together for a better tomorrow.
This year 7 members from Bangladesh and 1 member from India were entitled as the SAYS Young Fellow for completing 100 hours of the fellowship challenge. They are Nandeeta Samad Sarah, Sadia HaqueJui, Miftah Zannatul Ferdous, Sabbir Ahmed, Md Tamzid HydarTawrat Sikdar Moon, Tashfique Uddin Chowdhury, Md Rakibul Islam from Bangladesh and Srishti Dixit from India.
To make this day remarkable for the members SAYS invited the parents as guests. The parents were amazed to see their children working for the betterment of the society. One of the parents, Mrs. Rahat Ara Hossain, mother of FabihaTanzeem said "I didn't realize when I became parent of such a great mind".
SAYS welcomes young minds with thirst to bring a change in the society and promise to shape them in an effective way to become the global change makers of tomorrow.
The writer is a fellow and media asssociate, South Asian Youth Society. She can be reached at pr@says.org.bd